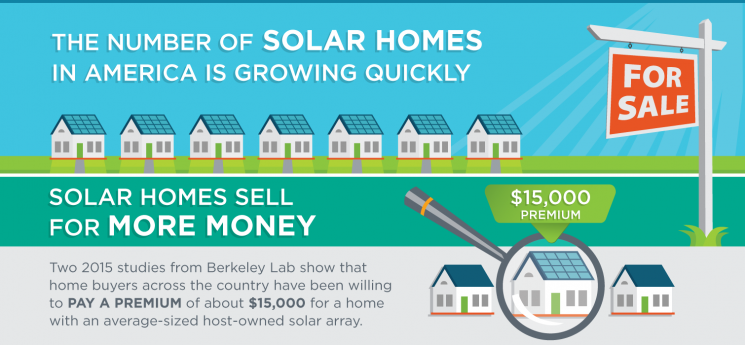 Buying a solar energy system will likely increase your home's value. A recent study found that solar panels are viewed as upgrades, just like a renovated kitchen or a finished basement, and home buyers across the country have been willing to pay a premium of about $15,000 for a home with an average-sized solar array. Additionally, there is evidence homes with solar panels sell faster than those without. In 2008, California homes with energy efficient features and PV were found to sell faster than homes that consume more energy. Keep in mind, these studies focused on homeowner-owned solar arrays.
Source: Energy.gov
There are many misconceptions about Solar panels impact on the environment. Keep reading to learn more.
Making solar panels causes more pollution than the clean energy they produce.
No. A study by the US Department of Energy shows that, depending on your solar panels, the energy payback is 1 to 4 years. Solar panels usually last 25 years, so solar manufacturing is very green. That said, if you buy American made panels, it saves more carbon from the transport costs. Something to consider in choosing your panels.
Solar panels will cause more harm to the environment when they're thrown away in 25 years.
Actually, most panel manufacturers will recycle the panels after you're through in 25 years. If they don't, don't buy those panels. However, it's hard to say whether people will actually recycle them because most panels are still being used today. So it's up to you find out about the manufacturer's panel recycling program. From what I understand, they will come to you and take them away at no charge.
Source: Solar Power Rocks